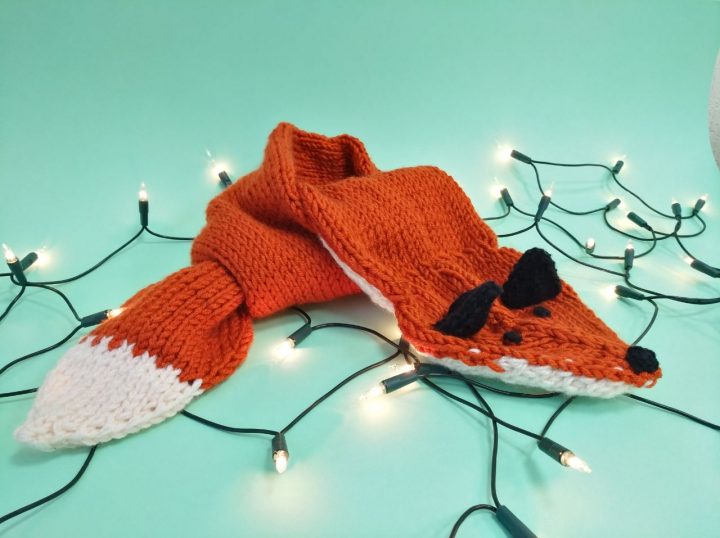 Lai uzadītu šādu lapsas šalli būs nepieciešams:
oranža dzija
balta dzija
melna dzija
parastās adāmadatas un 5 adatu komplekts
liela lāpām adata.
Es izmantoju 80cm lociņ-adatas, 5mm resnas.  100% akrilāna dziju paredzētu 6-8 numura adatām. Baltā dzija man bija plāna tādēļ satinu to 3 kārtās, lai tā biezumā atbilstu oranžajai dzijai.



Lapsu sāku adīt no astes.
Uzmetu 5 valdziņus un sāku adīt ar balto dziju. Lai panāktu trīsstūra formu, adīju tāpat kā dūraiņa nobeigumu, katrā otrajā rindā pieaudzējot 4 jaunus valdziņus.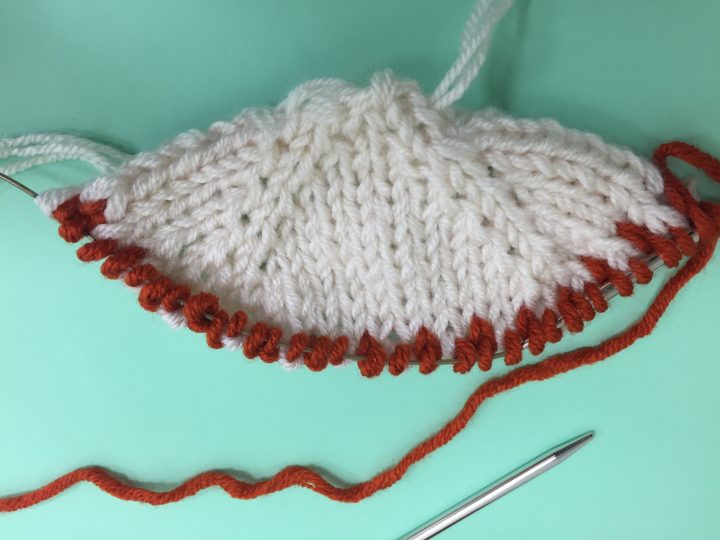 Balto astes galu adīju apmēram 9 cm tad pārgāju uz oranžo dziju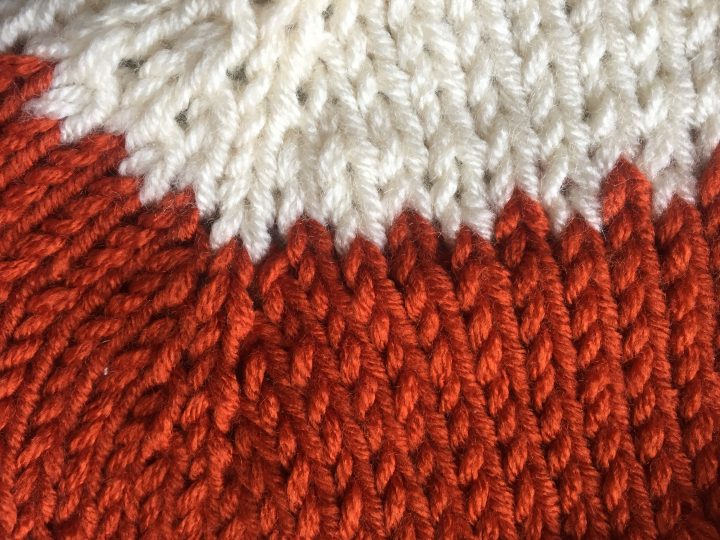 un turpināju pieaudzēt valdziņus līdz uz adatām bija 42 valdziņi. Tālāk vairs nepieaudzējot adīju tik ilgi kamēr no astes gala bija noadīti 20 cm.
Tālāk lai izceltu asti, saadīju kopā ik pa diviem valdziņiem.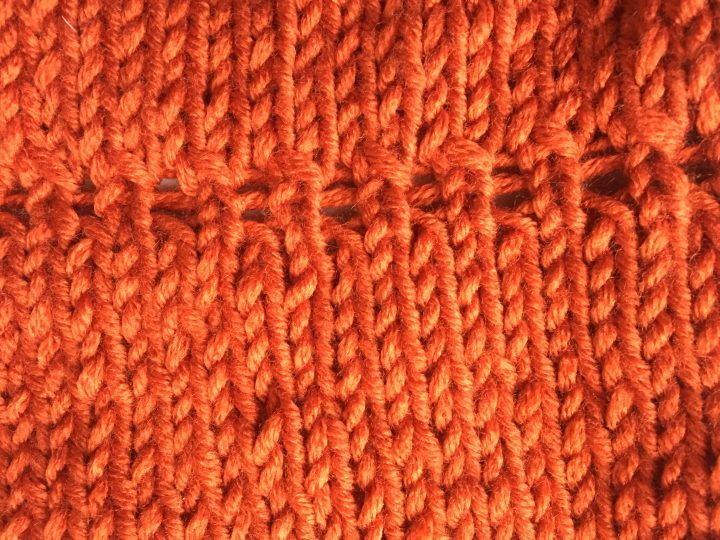 Nākamo rindu noadīju vienkārši labiski. Adot trešo rindu uzmetu jaunu valdziņu aiz katra izadītā, tagad vajadzētu būt atpakaļ uz adatām 42 valdziņiem.



Tālāk adot nolēmu sarežģīt uzdevumu un uzadīt lapsai baltu vēderu, tādēļ katrā pusē sāku pakāpeniski pieadīt balto dziju.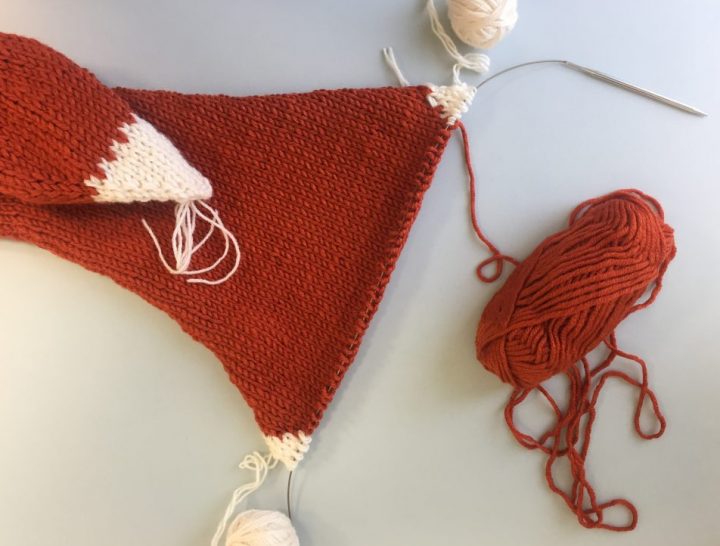 Balto vēderu var netaisīt arī bez tā lapsa izdosies lieliska.
Kad bija noadīts aptuveni 95 cm garš lapsas rumpis, saadīju valdziņus tāpat kā nobeidzot astes daļu.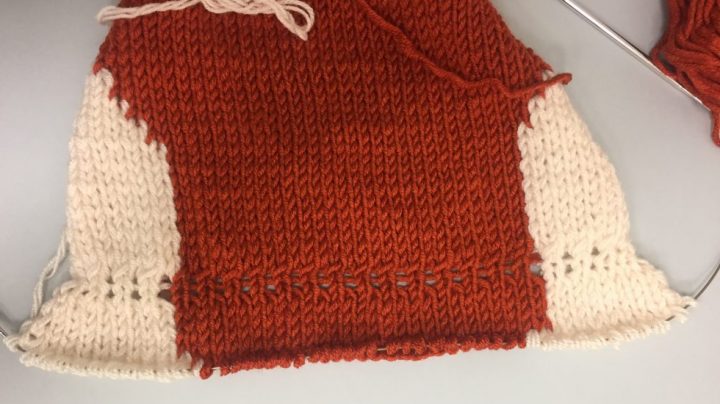 Ja vēlies, lai lapsu 2 reiz varētu aptīt ap kaklu tad iesaku adīt garāku rumpja daļu un tad arī būs vajadzīga veļ viena fice ar oranžo dziju.
Lapsas galvu var adīt tāpat kā asti. Es nolēmu mazliet sarežģīt un saadīju divus vidējos valdziņus un pa vienam valdziņam lapsas vaigos. Atzīšos ka galvu adīju un pāradīju 3 reizes.
Tad lapsas vēders tika sašūts.



Lūk kā izskatās viņas mugura
un šādi izskatās lapsas vēders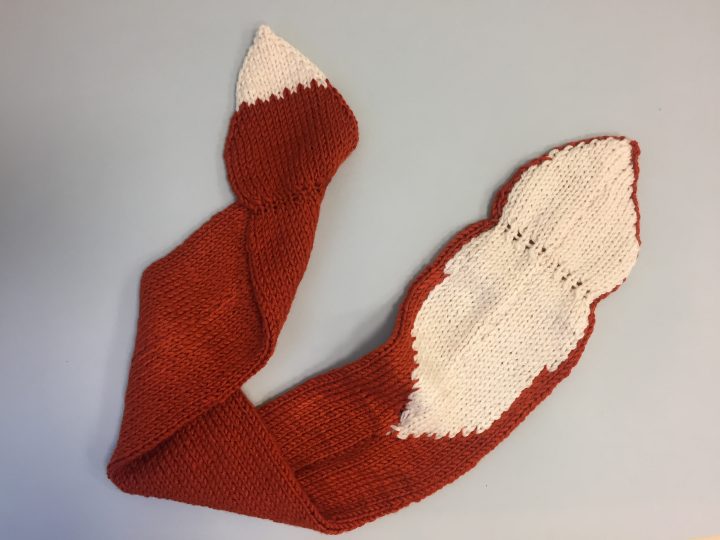 Tālāk lapsai vajag ausis. ausi adīju uz 5 adatām tāpat kā dūraiņa purniņu, uz katras adatas uzmetu 6 valdziņus melnas dzijas.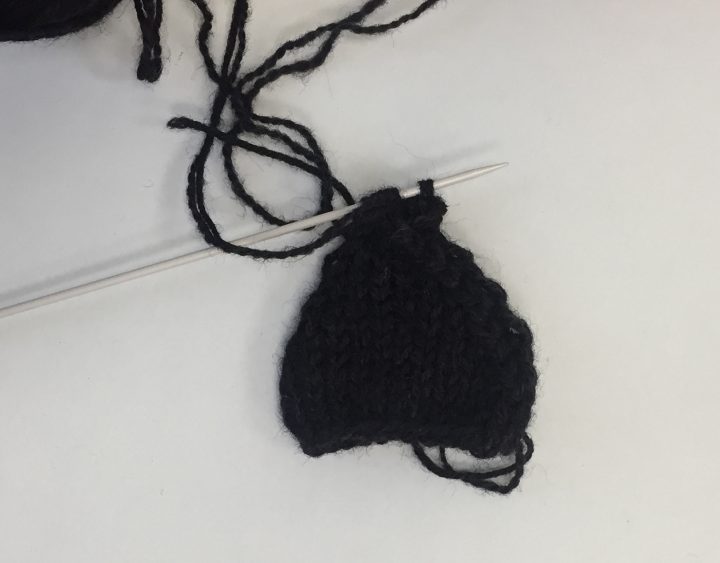 Ausis piešuj ar melnu dziju pie lapsas galvas. Tālāk acis un degunu var šūt ar to pašu melno dziju vai piešūt melnas podziņas.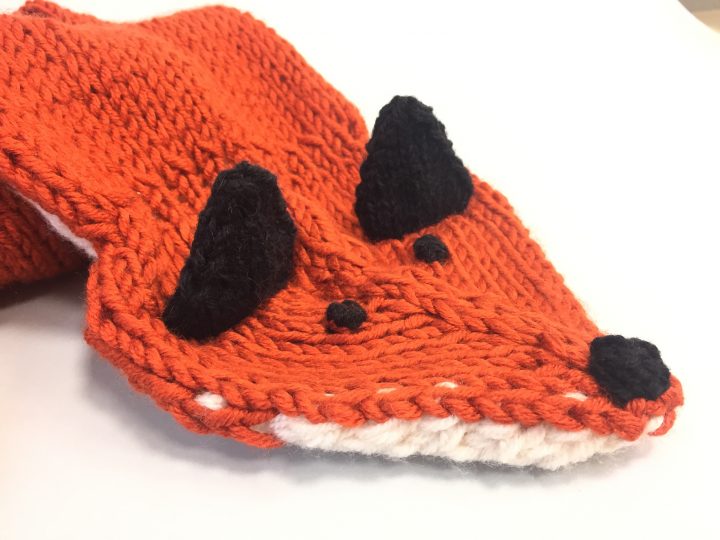 Šī lapsa ir paredzēta kā dāvana vīrietim tādēļ ausis tai ir melnas. Vēl var piešūt ķepas 😉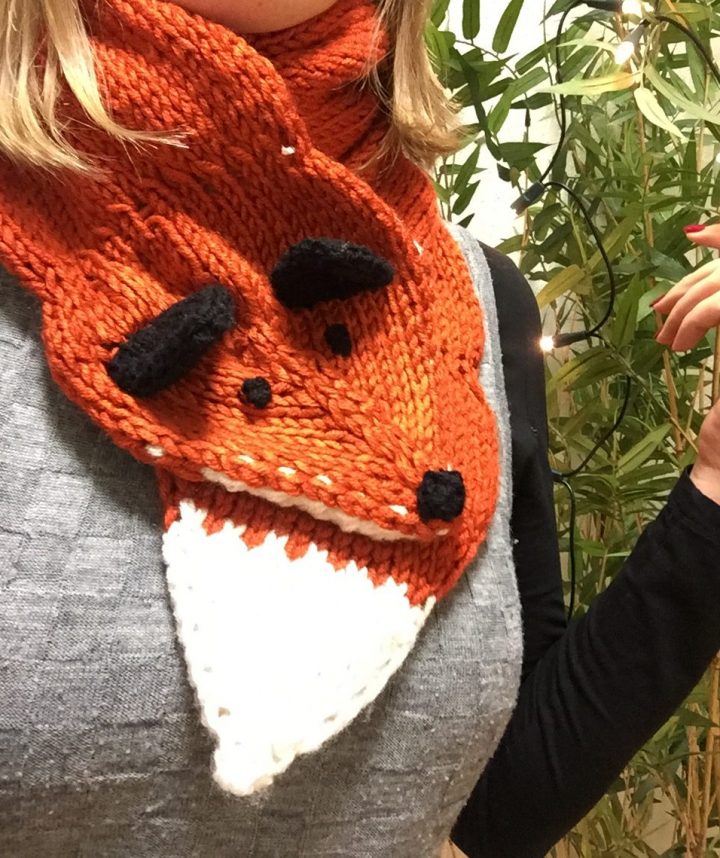 Kopējais lapsas garums 130cm.